Inching closer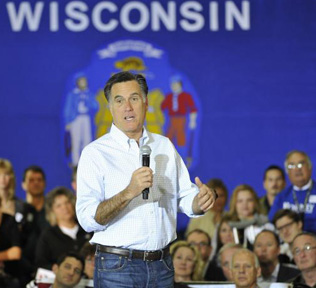 We Ask America clearly has a soft spot for the dynamic electorate in this nation's Dairy State. samsung tablet sm t561 custodia From the political brouhaha brought on by Gov. Scott Walker to the voters' reactions visceral reaction to his programs, the Badgers are a spirited bunch that we love to poll. custodia s6 samsung galaxy Wisconsin's GOP have sometimes been publicly painted as hard right with a broad brush tinted with Walker's attempt to dismantle the state's public-sector labor power base. But as we've pointed out before, the state's electorate isn't so easy to pigeon hole. samsung s9 plus custodia per cintura And with the Walker re-call election looming, many are looking at tomorrow's presidential primary as a harbinger of the current governor's fate. samsung j6 custodia Of course, the Republican Primary in Wisconsin is vitally important to the two presidential frontrunners as well, as Mitt Romney continues his efforts to be viewed as the inevitable winner, as Rick Santorum attempts to regain some of the mojo he exhibited elsewhere. samsung s9 batteria custodia With that in mind, last night we asked likely GOP voters in Wisconsin who they will support in tomorrow's primary: [table id=109 /]
Note: an intrepid reader contacted us pointing out that rounding the results to whole numbers produces a total of 101%. custodia x samsung a5 2016 colorate For those who like it even, here are the results to a tenth of a point: Gingrich: 14.8%; Paul: 15.8%; Romney: 38.7%; and Santorum: 30.7%.
Romney's claim that a win in Wisconsin will give him the final push he needs to "easily" (his words) attain enough delegates to wrap up the nomination before the primary.
samsung galaxy s2 tab 8 0 custodia
His eight-point lead is not technically insurmountable, but the former Massachusetts governor seems to be inching closer to his goal.